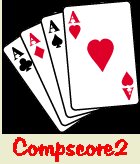 Altosoft works with the contract bridge community, developing the popular Compscore2 bridge scoring software, and creating and hosting bridge club web sites.
Altosoft also hosts the bridge portal Bridge Australia, which is used as a respository for selected Queensland congress results.
Company principal Peter Busch is a qualified accountant with over 10 years experience in accounting practice and over 20 years in the IT industry, and is a national bridge congress director.
Follow us on Twitter
... or send a tweet about Compscore2