Help and Resources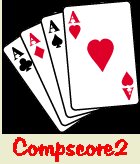 Before contacting us for help, please check this page to see if the solution to your problem is listed.
Frequently Asked Questions
If you have a question, chances are others have asked the same question and we've aded it to our FAQs page. Click here to go to our Frequently Asked Questions page.
2. Operating Manuals (PDF Files)
Compscore2 manual - last updated Friday, October 1, 2021

Addendum to Compscore2 manual detailing new features (includes Datums in Teams events, using Compscore2 with external displays, new Session Consolidation using Ladder, carry-forwards in Pairs and Teams events, using remote PCs to run the Bridgemates, Substitutes in Pairs and teams events)
Help file
Unblocking the Help file: After downloading the file to your Compscore2 program folder, if you are using Windows XP SP2 or later, you may to "unblock" the file by right-clicking on it in Windows Explorer and selecting the "Properties" menu item, then clicking on the "Unblock" button (on Windows Vista this is within the "Security" options). Failure to unblock the documentation file may result in error messages including "Navigation to the webpage was cancelled" due to Windows security restrictions.