Compscore2 Testimonials
Read what some directors have to say about Compscore2...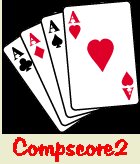 Trevor Strickland, Congress Director: "Even more impressed with Compscore2 ..... In my opinion it is significantly better than anything else available. The prime advantage of your software is its user-friendliness, and easy access to its author. [There are other programs that have] all manner of bells and whistles but novice users struggle with them. Your manual is excellent."
Kay Hogan, Club Director: "Exceptionally good - user friendly, big fonts, easy to understand directions, user manual etc. Loved it. Peter seems to have garnered the very best from many other programs."
Barbara O'Connor, Toowong Bridge Club: We're finding the club pairs scoring really user friendly and everyone has been coping well with hiccups such as a pair departing after the first round! It's much easier to manage than our last scoring program, and training new people is a lot more straightforward.